Sole e Mare offers the possibility to rent fully furnished bungalows with air-condition and weekly change of towels and bed linen.
The bungalows for 4 people have a bedroom with double bed, a double sofa bed in the living room with kitchenette, a bathroom with shower and toilet and a veranda with chairs and table.
It is allowed to introduce dogs (only one and no other kind of animal) into the bungalow paying a small extra charge. Dog owners have to bring a dog bed, because it is strictly forbidden to let them sleep on the bed or on the sofa bed.
Dogs must not bark or disturb other guests.
If kept on the leash You can bring Your dog to the restaurant, to the pizzeria, to the bar or to the beach. You cannot bring them to the washing facilities or into the showers of the camping.
You have to accompany them outside the camping for their needs and You have to clean where the dog leaves dirty.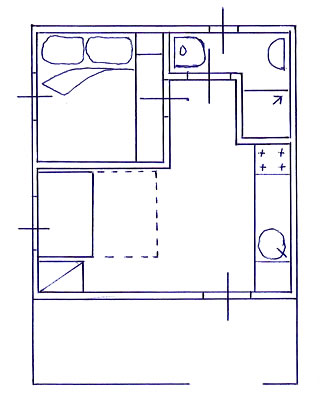 At 50 m from the beach
Price per week all inclusive from 300,00 Euros on.
PRICE LIST 2021
Small children up to 12 month are not calculated.
Full board and half board at special prices available.
By payment: beach service, diving, bouies for rent, boats for rent, boat trips, washing machine.
When reservating You will have to pay the whole amount of Your journey even when You postpone Your arrival or anticipate Your departure.
Accomodations can only be rented from Saturday to Saturday.
In low season possible alternative stays but only after confirmation by phone or e-mail.
Prices per week

Journey
from - to
from - to
from - to
from - to
01.04-11.06
11.09-15.10
12.06-02.07
28.08-10.09
03.07-06.08
21.08-27.08
07.08-20.08
Bungalows for 2 people
300,00
400,00
570,00
940,00
Bungalows for 3/4 people
350,00
470,00
670,00
1.040,00
Air-condition
50,00
50,00
50,00
50,00
Extra charge for the dog
50,00
50,00
50,00
50,00
Bed linen and towels
gratis
gratis
gratis
gratis
Water / electricity / gas
gratis
gratis
gratis
gratis
Parking
gratis
gratis
gratis
gratis
Animation
gratis
gratis
gratis
gratis
All prices include VAT but any tourist tax excluded.